Most artworks presented on this page are not for sale.
If you are interested in purchasing, please select the post with a price.
o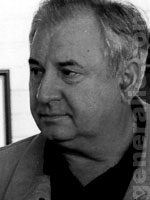 Josip Generalic
painter
19th February 1936 (Hlebine, Croatia)
–
22nd December 2004 (Koprivnica, Croatia)
Born in village of Hlebine, Republic of Croatia, on February 19, 1936.
First oil paintings on canvas date from 1950. His first public appearance took place in 1954 in the town of Krizevci near Koprivnica, where he graduated at the Teachers' Training College.
In 1959 he displayed his artworks for the first time on a one-man exhibition in City's museum in Koprivnica.
Josip left his native village Hlebine in 1960 and moved to Zagreb where he taught at an elementary school. In 1962 he graduated at the higher Teachers' college. Josip Generalic got married in 1969 in Hlebine. His son Goran was born Sept. 1, 1971. Due to personal tragedies in his life, some of Generalic works make up the phase which he himself called the "Black Phase".
During his life, Josip Generalic has displayed his artworks on more than 1.000 collective exhibitions and 200 one-man exhibitions around the world. He was regularly present in all representative exhibitions of the Croatian and world's naive art. The famous artist has been awarded by many international juries.
Generalic did a few scene paintings for Zagreb theatres; he ilustrated childrens' books and made about thirty tapestries; one of them entitled the "Big Grape Harvest" is permanently displayed in the Museum of Modern Art in Soitama, Japan. Josip's oil on glass and canvas paintings, his serigraphies and copper-plate etchings can be found in many galeries and museums. For 15 years, he's been working intensively on copper etchings, using his own press. Generalic has been acclaimed by the critics as the top artist in the field of paintings and graphics and one of the gratest representatives of the world famous "Hlebine school". Josip Generalic's works of art are classified into four phases: the Hlebine verism, flower phase, portraits of distinguished persons and black phase.
In 1998 Josip moved back from Zagreb to Hlebine where he lived and worked.
Josip Generalic died in Koprivnica on 22nd Dec 2004 and was buried in Hlebine.
o
Josip Generalic, the son of the great Croatian naive artist, most of all of the members of the 2nd generation of the Hlebine School, his pressure due to his father's art and achievements. In the very beginning of his work, Josip followed the paradigm of the Hlebine School with a typical additive method of painting, veristically accentuated, two-dimensionality, absence of modelling, clarity and "purity" of the palette, focus put on details and careful execution (which will remain recognizable in all his phases) with minimal use of perspective built up in a variety of shape sizes arranged in plans. Even in his early works, critics recognized a fear of gaps, a kind of horror vacui in the approach to painting that will be further emphasized in the second phase of his creative output that will be based on vegetal-floral motifs.
His second, so-called floral phase has a softer, lyrical palette, a purified, simplified form, and a floral decor lined up on the principle of repetition. Purification continued in the 1970s when he made expressive portraits of exceptional suggestiveness, and along with paintings of his neighbours, he portrayed figures of show business, typical for his opus. Pop stars, actors, celebrities and historical persons (Sofia Loren, Tongue of John L, Janis Joplin…) can be seen in the Podravina landscape – although their physiognomy is recognizable, the form is grotesque. It is the end of the 1960s when people conquered the universe (first man on Moon in 1969), the influence of the media, and especially of television is on the rise — it is the time of enthu-siasm, astonishment, and fear when impossible becomes possible, even the Beatles in Hlebine! As with his father Ivan, in Josip's work, too, we find a successful combination of rural and urban, but in a completely new context and way of thinking that moves the boundaries of the understanding of the Hlebine School. He has completely moved the boundaries in his black stage, where rural and urban are in conflict, and the "sophisticated Naive Art" depicted all the dark sides of civilization, technological progress, and the moral rupture of mankind. This dark phase took complete hold on him when his mother died in 1975, and when emotional disruption brought him to a chronic suspicion of the positivity and humanity of human beings. "He experiences tragedies as physical wounding and disintegration, erotic-sexual symbols become freakish and wicked, man transforms into monstrous half-human creatures perverted in their own right." Real relationships are elevated to the level of mythical, fantastic, surreal (Stopped Time) in clear and pure colour and in simplified or accentuated grotesque forms.
Biography by Helena Kusenic (Putevima Hlebinske skole)
o